What our students say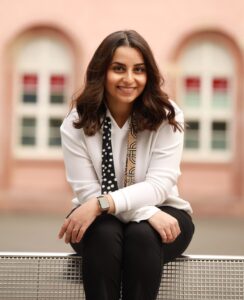 "The European Master's program offers students the opportunity to experience different teaching methods at European universities and to meet many new people. The alliance of the University of Opole, the Johannes Gutenberg University Mainz and the University of Burgundy creates a cross-border teaching program with many interdisciplinary interfaces and linguistic diversity. The program is unique, intensive and instructive at the level of International Relations and European Law.
Due to the fact that the university location changes every semester, the 2-year master's program becomes a balancing act. It is therefore an enrichment for every student that funding programs support us financially."
Maria Harutyunyan
8th generation student of Europa Master (2020-2022)
In a podcast, Jonathan Spindler, a graduate of our tri-national MA European Studies, talks about his experiences studying and living - including at the Université de Bourgogne and Uniwersytet Opolski:
https://podcast.ausha.co/alma-mater-europa-fr/jonathan-spindler-je-n-aurais-jamais-imagine-aller-si-loin
The podcast was produced by the German-French University (DFH-UFA) and appeared in the series 'Alma Mater Europa'.
Networks

A special feature of the Europa Master: on the initiative of the first cohort of graduates of the Master, an alumni association called "Europa Master Association - Dijon Opole Mainz" (EMA-DOM) was founded in 2015. The association has developed into a cross-generational network of current and former students of the Europe Master. On the one hand, current students are supported with information, tips and activities in their studies and everyday life outside the university, and on the other hand, the international network of alumni is maintained and expanded. 'Weimarer Dreieck' at its best!